Hello Waveriders, apologies for my long absence here on JAKwave; I'm sure you won't have missed me with all the brilliant content that's been coming out recently! Since my last post the weather's been getting much colder, and so I think it's time to share some of my favourite wintertime beauty products with you all 🙂 Under the cut are my five top picks for cold-weather beauty must-haves!
Missha Real Moist Hand Cream
I'm affected by sore, dry hands in the winter months, and my current job means they're already suffering with the cold and wet weather! This hand cream was a pre-emptive purchase and I am so glad I bought it. The cream is enriched with the all-around beauty essential ingredient Argan Oil for long-lasting moisture, and it smells lovely. It soaks in almost immediately for silky-smooth hands, and I've even noticed a difference in my nails looking healthier and shinier since I started using it.I bought mine from YesStyle for £5.90
Lucido-L Hair Treatment Water
Dry, cold, windy weather can really take a toll on your hair, so it can be good to give it a little extra boost during winter months. I use a spritz of the Lucido-L Hair Treatment Water before I go to bed to replenish some of the moisture lost throughout the day and wake up to shiny, smooth hair. I love that its hydrating without being sticky like some of the hair treatments and conditioners I've tried; this is light and refreshing. The key ingredient is Hyaluronic Acid; a super-hydrating substance that helps to repair damaged tissues, including those in your hair. If you notice lots of split ends, this could be a miracle product for you!
I bought mine from Pretty and Cute for $11.49, but it's also available HERE or on eBay.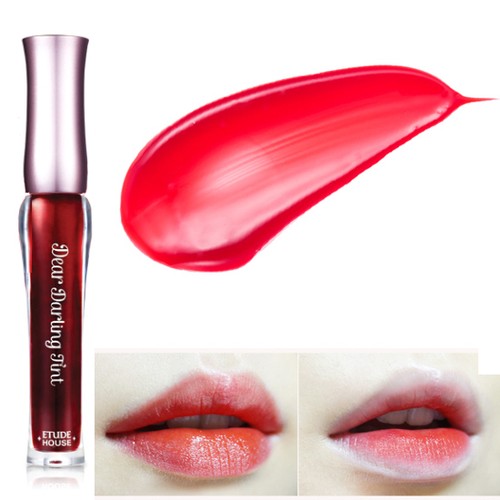 Etude House Dear Darling Lip Tint
This is one of my favourite lip tints for daily wear, but especially coming into winter this shade is to die for! The tint is a water-based formulation, so it can go on streaky if you put on too much at once, but when done right looks sooooo pretty. It also smells amazing! My lips feel lovely and soft with the tint on, and unlike some tints it seems to glide right over any nasty chapped bits and conceals them really well without being heavy like a lipstick.
Mine was a gift, but you can purchase it from the official Etude House website, or from eBay or Amazon.
Skin Food Black Sugar Mask
I'm on my second tub of this stuff because I am addicted to it! This is the perfect remedy for dry, dull skin and can be used either as a mask; covering the face and leaving on for 10-15 minutes for maximum skin-revitalising effects, or used as a quick facial scrub for a boost. What I love most about this product is the dewy-soft sheen it leaves when washed off, but its still an effective scrub; it can be difficult to find a scrub that offers a deep clean without leaving skin red and sore, but this definitely hits the mark. You can see why it's won so many awards!
I got mine from Korean Kosmetics for £10
Liole Glittering Jewel Liner
Finally, this is my eyeliner crush of the moment, I have it in Jewel Navy, but there are loads of colours available for whatever takes your fancy. This is what I consider to be the perfect pick-me up make up product; a bold colour with a hint of glitter, its great for parties or just something different to brighten up those miserable grey days! The sapphire shade is definitely my favourite eye colour; subtle enough that you can wear it without being too "statement", while still being something different from the usual browns and blacks. It also compliments my winter wardrobe really well. The pencil itself is a soft, blendable, crayon-style, with a fine enough tip to do delicate lines and wings.
I bought mine on eBay for £3.50
So that just about rounds up my cold weather beauty faves! Anything here you think you might have to purchase yourself? Let me know what your winter must-haves are in the comments!