I saw an article on these nail stickers just before they were released and I thought they were both amazing and ridiculous: Lumi Deco Nail Stickers, produced by Takara Tomy Arts, look just like any other manicure but have a tiny LED that lights up when they pick up NFC (Near Field Communications) Signals from your phone, video game console, card reader or ticket scanner!
Deco nails have been popular in Japan for years, with girls of all styles accessorising their nails with stick-on charms, jewels and other decorations. Light-up nails are looking to be a new trend, and now that the technology has been channelled in this way, who knows what kind of glowing nail creations we might see in the future!
The advert below shows off the nails in a Sailor Moon-esque style, demonstrating the correct way to apply the nail stickers, how they interact with devices and also showcasing a number of the available designs.
The LED is completely wireless, contained within a single nail sticker, and can be programmed using a mobile phone app to flash in certain patterns or interact with particular devices, such as your phone. From what I gather, it will otherwise interact with all NFC signals, which will have your manicure lighting up when paying for your shopping or passing through a ticket gate.
There are currently six cute designs featuring delicate floral patterns, lace accents and pretty bows, with more set to be released following any success with sales. Only one sticker in a pack has the LED on it, with 16 others to apply a full manicure, but this keeps the price at an affordable 1200 Yen; definitely cheap enough to try it out!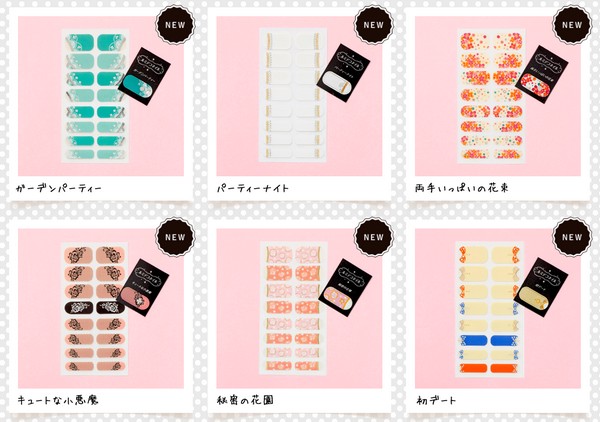 For now they have only been released in Japan, but if they sell successfully Takara Tomy Arts hope to make their creations available to the international market. So who knows, maybe we'll be seeing these in Superdrug soon enough!
It was tricky to find a place to buy these, with seemingly nowhere selling the product on an English-speaking site! I did however find two retailers, HERE which is currently out of stock and HERE, which is where I managed to eventually buy a set! (Be aware that Google Translate on the second page doesnt work so well, so have a window open to help with the Russian!)
As soon as my own set of Lumi Deco Nail Stickers arrive I'll be sure to try them out and review them here on JaK Wave, so make sure to check back soon!